The fourth installment of our weekly series seems like a no-brainer. Spoiler alert-it is. Anybody who dares to call him or herself a Cubs fan knows there is only 1 answer here. But that doesn't mean we can't go down memory lane and review some of the other good players who have manned second base for the Cubs throughout  history.
The Contenders:
Rogers Hornsby. Hornsby's first season as a Cub resulted in a National League MVP. He hit .380 with 39 home runs and 149 RBI. Hornsby played 4 of his Hall of Fame seasons with the Cubs, compiling a .350 batting average with 58 home runs and 264 RBI during that span.
Glenn Beckert. Beckert was a 4-time All Star with the Cubs, batting .342 in 1971. From 1966-1969, he was the toughest man in the N.L to strike out. Beckert won the Gold Glove in 1968 and ranks 4th all time for games played at second base for the Cubs.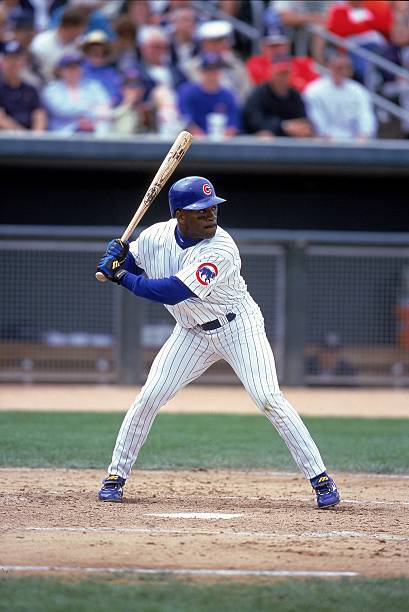 Eric Young. Young came to the Cubs in 2000 and stole 85 bases in those 2 years, and was only caught stealing 21 times.  He was the prototypical lead off man the Cubs had been looking for,  only striking out 84 times in those 2 seasons.
Mark DeRosa. One of my all-time favorite Cubs. DeRosa played for the Cubs from 2007-2008 and was the spark plug on those division winning teams. DeRosa was a second baseman by trade, but he also played in the outfield during his time in Chicago. DeRosa was the gritty, hard-nosed player most fans love. He wasn't great at any one thing, but he could do many things well.
And the winner is……
Ryne Sandberg. While Ryno may not have technically been a Cub exclusively, playing in 13 games with the Phillies before being traded to Chicago in what has to be considered the most lopsided trade in Cubs history in their favor, make no mistake. Sandberg was a Cub. The 1984 MVP helped lead the Cubs to their first post season appearance since 1945, hitting .314 with 19 homer runs, 84 RBI, and an eye popping 19 triples. Sandberg could do it all. Hit for average (career .285 hitter), hit for power (282 career home runs including a league-leading 40 in 1990), and drive in runs (back to back 100+ RBI in 1990-1991). Ryno also stole 344 career bases in 16 seasons, an often overlooked achievement. And there was the defense. Nine Gold Gloves, including a streak of 140 games without an error. Sandberg was a 10-time All Star, finished 6th in the Rookie of the Year voting in 1982, and finished 4th in the MVP voting twice in 1989 and 1990. Sandberg delivered in the post season too. In 2 post season series in 1984 and 1989, (10 games)  Ryno hit .385 with 15 hits and 6 RBI and a home run. Sandberg was inducted into the Hall of Fame in 2005 in hist first year of eligibility.
This wasn't much of a competition. When you say Cubs second baseman, if you don't immediately think of Ryne Sandberg, either you aren't a real Cubs fan or your name is Joe Morgan. Sandberg is an all-time great. That being said, I tried to pay service to a few others who were also pretty good at the position. Do you think I missed someone? Is anybody going to speak up for Manny Trillo?
Tune in next week when I will actually have to do some work and determine the catcher of my All Time Cubs team.